They aren't all the same
There are many LTL freight carriers. According to JOC.com, in 2016 the top 25 carriers account for about 90% of the annual revenue for the transportation segment. LTL carriers fall into 3 general categories:
National carriers
National carriers originate and deliver shipments throughout the United States or Canada using their own networks.
Regional carriers
Regional carriers provide service in a limited number of states or provinces. Typically the number of states can be described as a general area such as the Northeast, Southeast, Midwest, Southwest, or West. To help extend their networks, regional carriers will often have reciprocal agreements with other regional carriers that share a service area border, a practice called interlining. Interlining can give a regional carrier national reach, but the handling of damage claims and unfavorable interline pricing are frequently cited as disadvantages to this arrangement.
Micro-regional carriers
Micro-regional carriers are smaller than regional carriers and may provide service to only one or a few adjoining states.
Top 5 US National Carriers
Source: JOC Top 50 LTL Carriers: Small carriers, fast growth (August 17, 2017)
2016 REVENUE, INCLUDING SURCHARGES, in millions of dollars.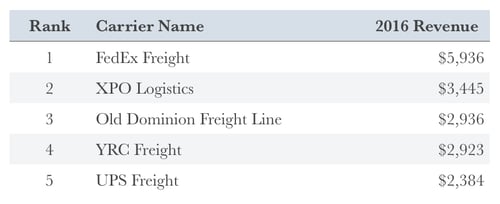 The advantage of using a regional or micro-regional carrier over a national carrier is typically price. Regional and micro-regional carriers tend to be more aggressive with their pricing and most strive to offer a better level of customer service. However, most eCommerce merchants will do better to stick with a national carrier unless…
the merchant sells only to states the carrier provides service to;

the merchant will offer quotes for both a national and regional or micro-regional carrier to ensure that shipping options are always available;

the merchant will offer quotes for more than one regional or micro-regional carrier to patchwork a solution that will provide coverage to all the states or provinces.
National carriers tend to have better technology and a larger investment in technology infrastructure. This provides eCommerce merchants the ability to reliably retrieve LTL shipping rates for use in their checkout process.
Price will play a significant role when choosing a carrier, but it shouldn't be the only criteria. Other suggested areas of evaluation include pickup times, percentage of on-time deliveries, damage rates, average time to settle claims, and carrier limits of liability.